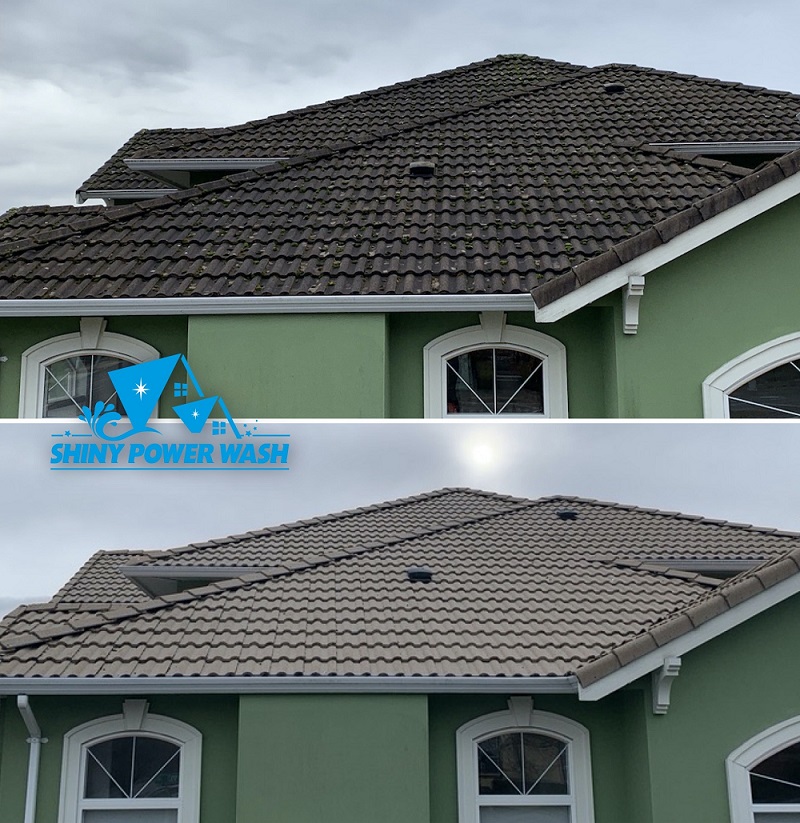 Why You Should Not DIY When It Comes to Roof Cleaning?
Roof cleaning is an unavoidable activity for every homeowner in Metro Vancouver. Though you may hope to save a few dollars by cleaning your roof yourself, there are several reasons why this is not a good idea. Walking on tiles during the cleaning process can cause tiles to crack and break, particularly if this is done when the tiles are wet. Much like wet flooring in your home, wet tiles are very slippery and can make you much more susceptible to falling.
Professional roof cleaners are fully insured under Workers' Compensation Insurance in British Columbia. This insurance protects the cleaning company and you (the homeowner) in the event an accident should occur when on the job. However, professional roof cleaning companies also make certain their employees are properly trained to ensure your roof gets clean without any damage to your property or to the roof cleaners during the cleaning process.
If you opt to hire a local handyman for this task, the person may be able to do a competent job but is unlikely to carry any insurance in case something goes wrong. In the event of an accident or injury, you, as the homeowner, are liable. It's not worth the financial risk for the sake of saving a few dollars on roof cleaning.
Inexperienced roof cleaners may also utilize equipment that further damages your roof. If the damage is not disclosed to you, the roof could deteriorate even further, making a roof replacement necessary. Broken tiles can lead to leaking roofs if not repaired swiftly. At Shiny Power Wash, we have seen our fair share of problems with homes that are improperly cleaned in Vancouver causing visible damage and long term issues.
Why Is It a Bad Idea for Me to Power Wash a Roof?
At first consideration, using a power washer to clean your roof seems like a great idea. After all, what could be better than a powerful stream of water to remove dirt, moss, lichen, algae, and other debris from the top of your roof? While it is true that power washing will get rid of all of these items, it is also powerful enough to cause great harm to your roof tiles in the process. In addition to this, many roofs are backed by warranties that clearly state your warranty will be voided if you attempt to clean your roof with a power washer.
Power washers can also yield very inconsistent results. Some of the problems you could encounter if choosing to power wash your roof yourself are:
Pressure regulation
If the power washer's pressure is not properly regulated, the force of the water spray could be too strong, causing damage to your roof.
Nozzle size
The correct nozzle size must be used. Failure to utilize the appropriate nozzle impacts the amount and intensity of the water which could cause tiles to crack or break.
Positioning of the spray
To properly clean a roof, the water should be directed from the top of the roof down, not vice versa.
Water temperature
Water that is too hot can cause harm to the surface of the roof.
In addition to the problems associated with power washer inconsistencies, any features in the roof itself such as skylights, chimneys, solar panels, etc can be negatively impacted by power washing. Powerful water sprays can cause sealants to weaken, leading to leaks in the roof.
There are several different problems you may encounter if you decide to power wash your roof yourself. Among the most commonly seen issues are:
Roof leaks

Removal of grit on shingles

Reduced longevity

Loosening of adhesive between shingles

Incomplete removal of moss, algae, fungus, or other plant growth

Damaged underlays or roofing materials

Cracks in cement, clay, tiles, slate, or even metal roofing
Why Should I hire a Professional Roof Cleaner?
Having your roof cleaned is a task that must be done in order to ensure your roof lives up to its promised life expectancy. The best thing you can do for your roof and for yourself is to hire professional roof cleaners to handle this job for you.
Among the benefits you gain from hiring a professional roof cleaning in Vancouver to clean your roof for you are:
You will save time and money.
Cleaning your roof is a big job. No one wants to spend their weekend scraping lichen off roof tiles under the hot summer sun, or worse, in the rain. Since most homeowners don't own the correct equipment to get their roof clean without causing it any damage, a DIY attempt may result in harm to your roof that cannot be repaired. Save yourself time and money and hire the professionals!
You will enjoy greater energy efficiency.
Roof shingles that are covered with moss, lichen, and other plant matter trap heat inside your home. This increases your costs to keep your home at a comfortable temperature, meaning your house is not operating as efficiently as it could. Having a professional team clean your roof typically results in lowered energy costs since air is vented appropriately outside your home.
You won't have to worry about algae and moss distribution.
Using a power washer to clean your roof on your own will lead to lichen, algae, and moss relocating to new spots in your yard, on the outside of your home, and to further reaches of your roof. Instead of getting rid of this undesirable plant matter, you just redistribute it to new locales in which to thrive. Professional roof cleaners utilize the correct tools to remove these items from your roof safely and completely. At Shiny Power Wash, we provide a standard Three-Year Moss Free Warranty for every roof we clean.
Your roof will not be damaged.
Professional roofers have been trained to clean your roof without causing any damage to it. In addition to this, these skilled professionals can also make any necessary repairs to loosened bonds or cracked tiles to prevent minor problems from becoming major roof leaks.
Thinking it's time to have your roof cleaned? Let Shiny Power Wash help. We provide roof cleaning & moss control in the Metro Vancouver area. (Surrey, Langley, Coquitlam, Burnaby, Vancouver City, Richmond, Delta, North Vancouver, Maple Ridge, New Westminster, Port Coquitlam, West Vancouver, Port Moody, Pitt Meadows, and Abbotsford)
Contact our office now at 604-802-9274 or info@shinypowerwash.ca to schedule your appointment. We look forward to serving you!
This article is for reference only, the article does not represent Shiny Power Wash's housing maintenance advice nor how we clean your property. Each building's condition is different and Shiny Power Wash provides the best practice that fits your goal.
---
Related Posts
A clean and well-maintained exterior can significantly boost your home's curb appeal and value. Shiny Power Wash, a family-owned business in Vancouver, specializes in low-pressure house washing to...
Are you noticing the signs of aging on your asphalt roof? Don't worry – Shiny Power Wash in Vancouver has you covered with our Asphalt Roof Rejuvenation services. This cost-effective and eco-friendly...