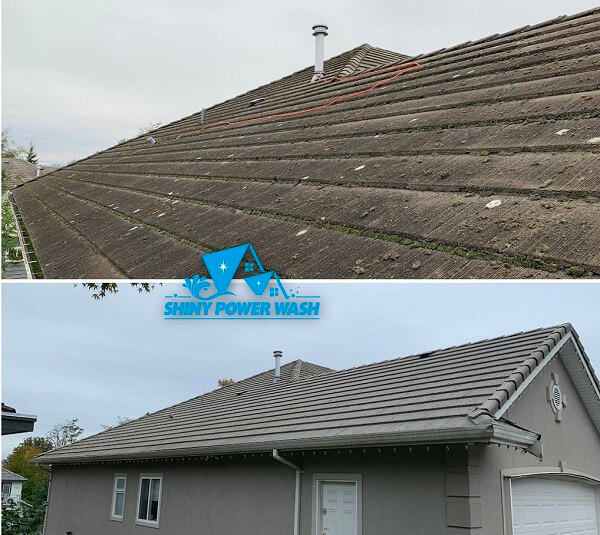 Preventative maintenance is key to ensuring the longevity of your roof. Regular cleaning helps to preserve your roof's structural integrity. Inspections and cleaning form a crucial component of roof health, making you aware of any minor issues before they develop into larger, unsolvable problems.
To learn how to keep your roof in tip-top shape, read our guide to comprehensive preventative maintenance for the ultimate roof longevity.
What are the Different Types of Roofs?
There are several different types of roofs, and the proper cleaning method and materials for your roof will depend on your home's type of roof.
Here is a list of the most common roof types:
Gable Roof
A gable roof is one of the most inexpensive and popular roof types used in Canadian home buildings today. It is a pitched roof of triangular shape and can be constructed of asphalt, cedar, shakes, slate, clay, or concrete tiles.
Hip Roof
The second most popular roof type is the hip roof. Hip roofs differ from gable roofs in that all four sides of the roof slope together, making a ridge at the very top as opposed to the two sides found in a gable roof.
Jerkinhead Roof
A combination of the gable roof and the hip roof, the jerkinhead roof can appear one of two ways: as a gable roof with abbreviated ends or a hip roof with two sides that are shorter than the other two.
Mansard Roof
The mansard roof is French in origin. This roof style consists of four double-sloped sides connecting in the middle to yield a roof with a low pitch in the center.
Gambrel Roof
Gambrel roofs are sometimes referred to as barn roofs. They are similar to the mansard roof but have only two sides instead of four. The shape of a gambrel roof is triangular.
Saltbox Roof
Saltbox roofs are the type favoured for use in homes of the Cape Cod fashion. They are known for their asymmetrical design. One side of this roof type is flat with a marginal slope, while the other looks like a "lean to."
Butterfly Roof
The butterfly roof is quite distinctive and appears just as it sounds. It has two "wings" that meet in the middle to form a V shape.
Bonnet Roof
Like the mansard roof, the bonnet roof is double-sloped, but its pitch is lower. The lowest slope of the house hangs over both the front and the back as a type of heavy awning that is ideal as a patio cover.
Sawtooth Roof
A sawtooth roof is a type of roof that resembles the jagged edge of a saw blade.
Pyramid Roof
A pyramid roof is actually a modified hip roof. It contains no gables or vertical sides.
Dome Roof
A dome roof forms an inverted bowl in shape and is most commonly seen as an architectural feature on a commercial building.
Skillion Roof
A roof type is sometimes referred to as a shed roof; skillion roofs have only a single angle and are often attached to a higher wall. They are sometimes chosen instead of a flat roof for a singular structure.
Curved Roof
Similar to a skillion roof, the curve roof forms a semi-circular arch attached to taller walls.
Flat Roof
A flat roof is a roof with very little or no pitch, laying flush atop the house's walls.
What is Basic Preventative Roof Maintenance?
Your annual roof maintenance should be two-pronged, consisting of a thorough annual cleaning and twice-yearly roof inspections. The inspections are best conducted in spring and fall. By committing to this maintenance regimen, you stand the best chance of enjoying the full longevity of your roof and experiencing very few issues.
Though some might feel inspections are an added hassle, they play an essential role in the longevity of your roof. Regular inspections allow for pinpointing any weaknesses in the roof before irreparable damage occurs. By identifying issues while they are still minor, you gain the opportunity to make repairs while they are small and affordable.
Inspections and cleaning are often required for roofs that are still under warranty. If problems are discovered during either process, you have ample time to file the paperwork to process any claims in advance of the repair work commencing.
Regular roof cleaning in Vancouver is not only essential to maintain the structural integrity of your roof, but it also keeps your house looking the very best. When your home is attractive and well-kept, its resale value remains at peak levels if a future sale may be in your plans.
Failure to clean your roof can lead to the accumulation of materials that can degrade your roof shingles and adhesives, including dirt, sap, lichen, moss, and debris. Many of these materials trap moisture on your roof's surface, leading to rot and damage. Some warranties are voided if moss is allowed to grow on the roof's surface.
What Should a Regular Roof Inspection Consist Of?
When inspecting your roof for damage, debris, or defects, there are several different things you should be on the lookout for. These include:
Tile grit in gutters
Rust
Moss, lichen, or other organic material growth
Missing shingles
Damage or cracked caulking
Crumbled, curled, or blistered shingles
Cracked or worn casings surrounding vent pipes
Broken shingles
While it is recommended that you conduct roof inspections in the spring and the fall, it is also important to carefully inspect your roof after extended periods of inclement weather. Weather conditions such as hail, high winds, and heavy rain can leave your roof damaged and in need of repair.
When inspecting your roof, look not only for external damage and accumulated debris but also for the condition of your chimney, vents, and internal roof components.
What is the Best Way to Clean a Roof?
Though you can learn to clean your roof yourself, it is a job that is best left in the hands of a professional roof cleaning company, especially if your roof is still under warranty. A professional roof cleaner has the experience and qualifications to safely clean your roof, removing dirt and debris and providing basic repairs.
A professional cleaning company has the tools to get the job done right and can identify problems you may not notice when inspecting your roof. An experienced roof cleaner can find not only external roof issues but also internal ones, spotting and repairing any potential leaks to extend the life of your roof.
Another critical component of roof cleaning is the removal of debris and organic matter from your eaves, gutters, downspouts, and drains. These areas can collect plant matter that, over time, can lead to decay and the degradation of your roof's structural integrity.
Here is a checklist of things to focus on during your yearly roof maintenance:
Check Your Gutters
Your gutter system needs to be clean to do its job effectively. When your gutters are filled with debris, water can be re-routed beneath your shingles, causing moisture damage over time.
Remove Moss and Algae
Because the air in Vancouver can be moist and humid, moss and algae will naturally grow on your roof. Though moss and algae can't be eliminated entirely, they must be controlled through regular removal to prevent your roof from succumbing to rot.
Cut Down or Trim Nearby Branches
When branches are near a roof, they can rub against the shingles, dislodging grit that can accumulate in gutters. Keep branches trimmed so they cannot reach your roof's surface even during a windstorm.
What Factors Can Shorten the Life Expectancy of a Roof?
Unfortunately, we cannot entirely control the environment. This means that your roof will succumb to wear and tear from good old Mother Nature. Among the external factors that can negatively impact your roof's longevity are:
Deterioration of flashing
High winds
Poor ventilation
Rain
The sun
Time/old age
Trees and leaves
Is your roof in need of cleaning? Shiny Power Wash is your go-to team for all of your Vancouver roof cleaning needs. Contact us now at 604-802-9274 or info@shinypowerwash.ca to learn more about our roof cleaning and minor roof repair services.
We look forward to serving you!
This article is for reference only, the article does not represent Shiny Power Wash's housing maintenance advice nor how we clean your property. Each building's condition is different and Shiny Power Wash provides the best practice that fits your goal.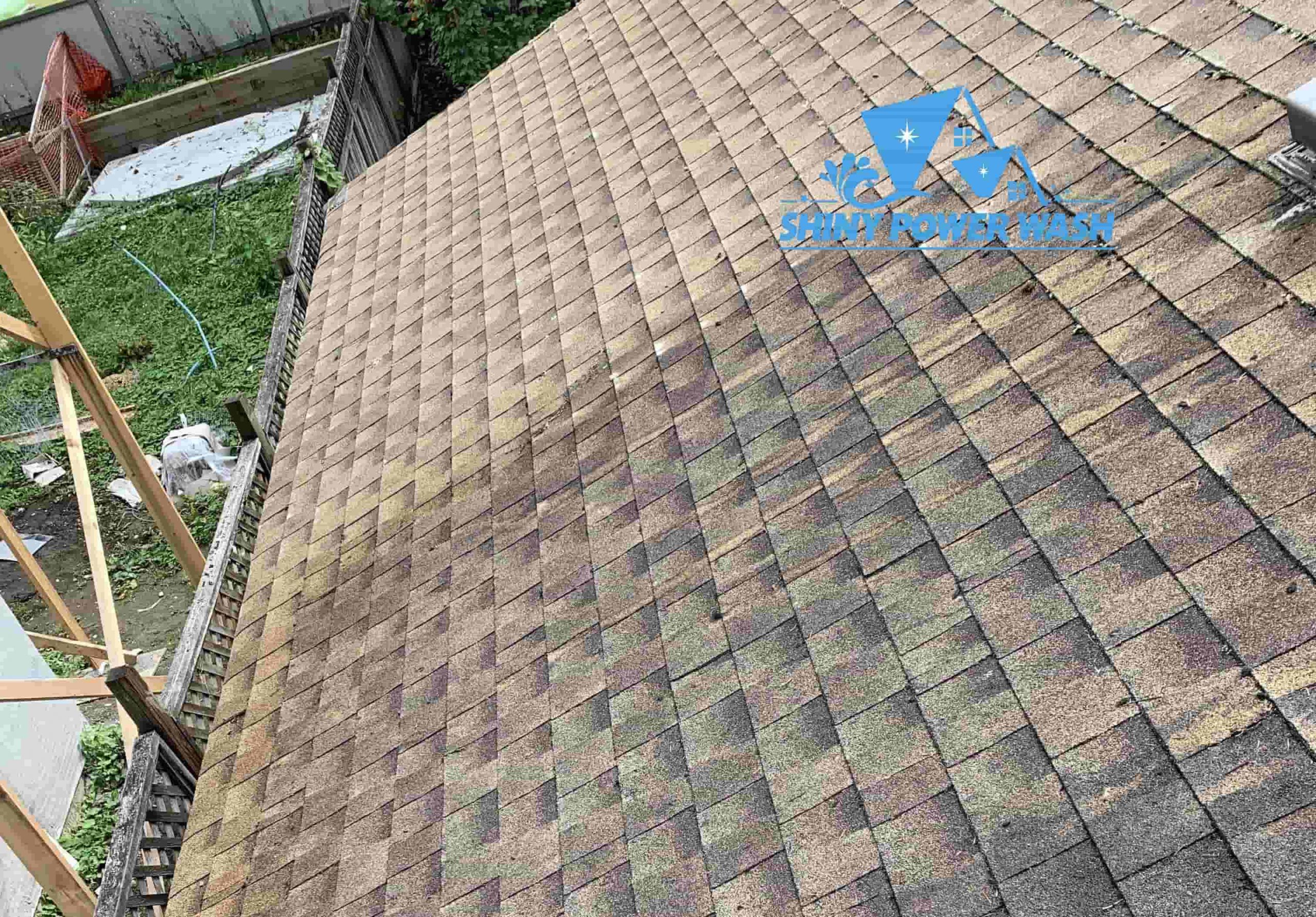 Taking care of your roof is an important part of regular maintenance for your home, particularly if you live in Vancouver, a city known for lots of rain. Moisture is the enemy of a roof, leading to any number of problems including:
algae and moss,
terrible aesthetics,
increased risk of leaks and damage, and
reduced life of the roof.
Cleaning your roof in Vancouver will help to keep it in tip top shape and prevent issues related to moisture from occurring. By taking the time to consistently clean your roof, your roof will have better longevity, saving you both money and hassle in the long run.
How Often Should I Clean My Roof?
It's not difficult to tell when the outside of your home is due for some deep cleaning. However, since your roof is less visible to you unless you dig out a ladder and go for a climb, it is easy to overlook until issues become highly visible. Your roof does not require as much cleaning as the exterior of your house. However, it is important to note that rain will not get your shingles clean as many people assume. In fact, quite the opposite happens when it rains. Rain and wind cause debris to accumulate on your roof's surface. This debris provides the ideal home for algae and moss to grow. You cannot take a passive approach to cleaning your roof. It's best to hire a professional home cleaning company in Vancouver to get the job done.
Experts agree that your roof should be professionally cleaned every three to five years. Homes in exceptionally hot and humid climates such as the lower mainland that are prone to frequent rain or precipitation may need their roofs cleaned on a more frequent basis.
Why Do I Need to Keep My Roof Cleaned? What Happens if I Don't Clean My Roof?
As time wears on, your roof becomes a ripe ground for moss and algae. These organisms begin to grow on the tiles of the roof, leading to potential damage to its structural integrity. To help remove algae and moss from your roof, regular cleaning is important.
If you fail to clean your roof on a consistent basis, there are a number of problems you can run into. These include:
Excess moisture
When moss, algae, and other debris is allowed to accumulate on a roof's surface, moisture is given the ideal vehicle in which to thrive. Moss naturally retains liquid, making the roof tiles heavier. When this happens, the roof is under great duress which can cause tiles to break. But in addition to this, moisture can leech through the tiles and into the home. Since the sun does little to help dry wet roof tiles, any plant life on the outside of the roof keeps moisture from penetrating completely but also ensures the tiles constantly remain wet. Even a sunny day is not enough to thoroughly dry the roof, causing accelerated deterioration and aging. If this situation is allowed to continue, the end result is the rotting of timber rafters. When this occurs, permanent damage is done to the roof.
Damage to critical structural elements
Moss not only adheres to roofing materials, it also grows well on the cement used to keep tiles in place. Among the places where moss likes to attach itself are all of the joints between ridge tiles, apex tiles, and the roof's surface. When moss is permitted to grow in these areas, it weakens the bonds that support the roof, causing its structure to become compromised.
Accelerated aging and reduced life of the roof
Not properly cleaning the roof accelerates deterioration and decreases the life of the roof. This means you would have to do repairs more frequently or have to replace the roof altogether earlier than intended, significantly increasing the costs of maintaining your home. Keeping your roof professionally cleaned is the best way to save a lot of money from unexpected repairs.
Terrible looks from the outside
Having a moldy roof or a roof covered in algae makes a house look old and dated. Not only is this an eyesore for you and your neighbours, a roof that looks like it is falling apart reduces the overall value of your home.
Clogged gutters
Keeping your roof's drainage system functioning optimally is an important component of roof maintenance. When debris accumulates, it can lead to blockages in your drains, leading to water careening along the sides of your home. When this happens, it leaves your home with unattractive stains, and in many cases, the walls within your home can also become wet.
Moss & Lichen Control is Important Especially in Wet Climates
To keep moss and lichen under control, prevention is the best course of action. There are a few things you can do to keep algae and moss buildup on your roof tiles to an absolute minimum. These include:
Clean the roof regularly by a professional cleaning company
There is no way to prevent all dirt, moss, or algae from beginning to grow on your roof. That is why it is important to take the time to clean it regularly to keep it from becoming out of control. The structural integrity of your roof will be preserved and its appearance will remain more attractive if you take the time to inspect the roof's condition and do any cleaning that is necessary on a regular basis.
Keep your roof properly maintained
Performing regular roof inspections is critical to providing any repair work or maintenance needed to prevent structural damage. By doing consistent checks on your roof, you are able to provide proactive repairs such as replacing tiles that are damaged or cracked and cleaning anything that becomes covered with lichen, moss, or other types of debris.
Add copper or zinc strips to your roof
By adding copper or zinc strips to your roof, you add a layer of protection that keeps moss, algae, and lichen at bay. These metal strips are a great help in preventing these organisms from attaching to your roof as they retain chemicals that help to poison them, not only discouraging further growth but also actually killing any organic matter already present on the roof tiles.
If you already have a substantial amount of algae or moss on your roof, you might be wondering what you can do to get rid of it. Though pressure washing seems like the obvious solution to this problem, this route is not recommended because it can damage your roof. Home pressure washing is done with such tremendous force that it can cause harm to the grit formed on the outside of the shingles, weakening the tile and leaving it vulnerable to future damage. For regular cleaning of your roof, a gentle brushing followed by a treatment with an herbicide is the ideal course of action. Once the herbicide is in place, you will then rinse with garden hose or leave it to the rain.
Cleaning the Roof with Chemical Treatment
Professional roof washing companies use a number of different chemical products on the market to help remove algae and moss from roof tiles. Most of these chemical solutions are added directly to the roof through a spray.
Since most of these chemical solutions are harmful for other plants and should not be used near drinking water, the cleaning company will exercise caution when using them. At Shiny Power Wash, we use an environmentally friendly cleaning solution to clean your roof tiles.
Why Hire a Professional Company Like Shiny Power Wash for Roof Cleaning?
Though some homeowners like to go the DIY route when it comes to cleaning their roofs, this is one job that is best left to the professionals. Failure to clean your roof properly can lead to damage that will cost you a lot of money to fix.
Roofs that are not properly cared for and maintained see a dramatic decline in longevity. Unless appropriate maintenance is provided for your roof, you can expect to need to replace it entirely in half its life expectancy. To ensure this doesn't happen to you, it is important to do roof inspections once per year, performing any maintenance on an as needed basis. This approach will help unearth problems in the preliminary stages, helping you to see lowered costs for repairs and a better lifespan for your roof.
Cleaning your roof tiles and structural bonds is the most significant thing you can do to help your roof enjoy long life and to keep its appearance attractive. Attempting to do this yourself through the use of a high pressure washer and strong chemicals can damage your roof, the landscaping of your home, and even void the warranty provided with your roof.
Roof Cleaning and Moss Control in Vancouver
Thinking it's time to get your roof professionally cleaned? Shiny Power Wash provides top notch roof cleaning, moss control and exterior cleaning in Metro Vancouver. Our company has been cleaning roofs and homes in the Greater Vancouver region for many years and earned great reviews. Shiny Power Wash is an owner operated business with a firm commitment to providing superior service and reasonable prices to our valued Vancouver customers. We clean your home with skill, patience, and consistency, giving you the confidence that the job is done right. For more information about Shiny Power Wash's services, check out our 5 star reviews online or contact our friendly staff by phone at 604-802-9274 or by email at info@shinypowerwash.ca. We look forward to serving you!